Discover more from Ecology Conferences
A monthly newsletter to keep you updated with upcoming online conferences and seminars from the Ecology and Evolutionary Biology world. Join 5000 subscribers.
Over 5,000 subscribers
Ecology Conferences 🧬 🦓 🐦 🧑‍🎓
Phylomania 2020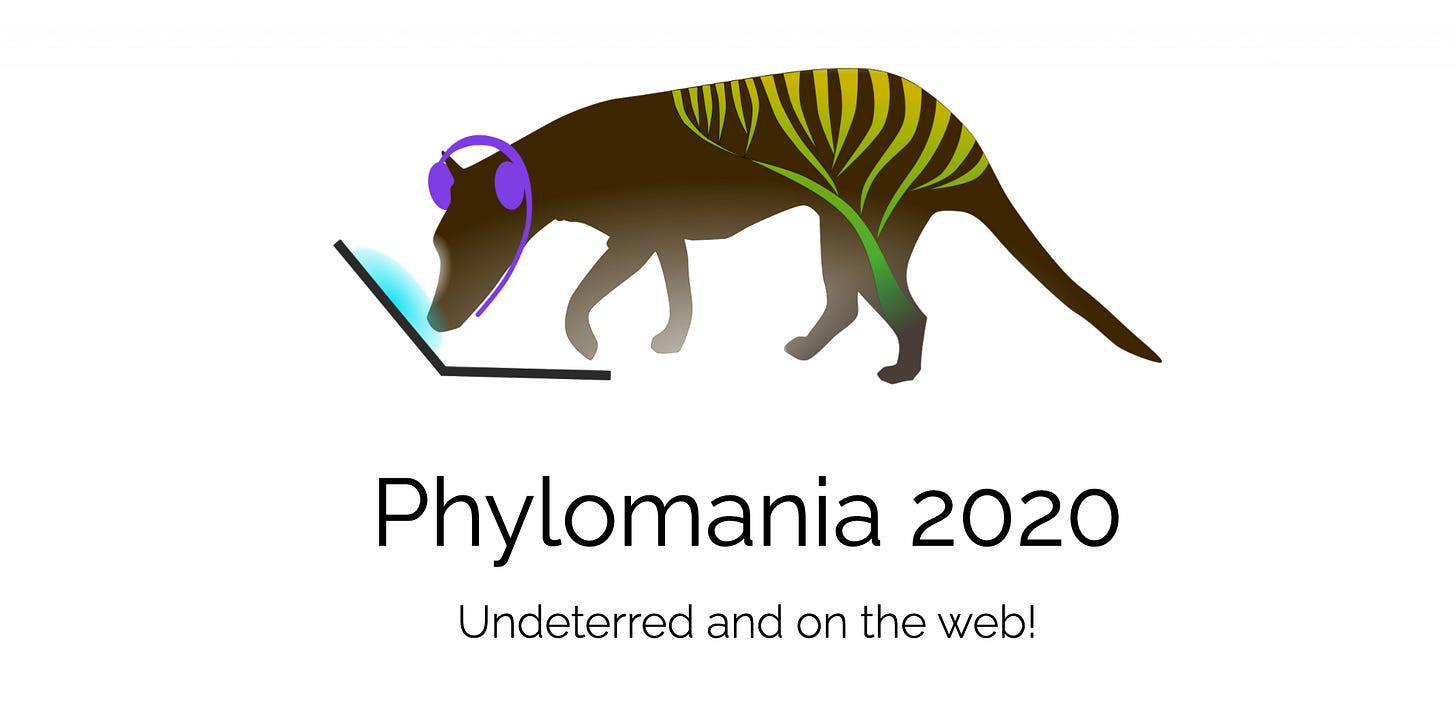 Date: November 25th-27th
Presentation Formats
The options for presenting are a live seminar, a pre-recorded seminar or a digital poster.
Conference Theme
Phylogenetics is concerned with one of the most important problems in biology: reconstructing the evolutionary history of present-day organisms from molecular data, such as DNA, or morphological characters. Hidden from view, in phylogenetics software packages used by biologists, are algorithms implementing stochastic and combinatorial methods on binary trees, as well as more general network structures. The mathematics involved represent a unique confluence of probability theory, discrete mathematics, stochastic methods, and statistical inference, as well as algebraic methods such as group theory. There are many important theoretical and practical problems that arise, such as statistical identifiability of models, consistency and convergence of methods. These problems can only be solved using a multi-disciplinary approach. Phylomania brings together internationally recognised experts, with the aim of discussing the pressing research problems in phylogenetics.
International Congress of Zoology 2021 (In Person)

Date: November 21-26 2021
Abstract Deadline: October 8th
Conference Theme
Zoology in the Anthropocene – a Holistic Integrated Approach to Conservation
This conference is dedicated to understanding and managing change in the Anthropocene.
Themes
Climate Change

Urban Ecology

Biodiversity Conservation: Bridging Science, Policy and Economics

Threats in the Anthropocene

Water: Implications of water scarcity and water pollution on human and animal life

International Wader Study Group

2020 Virtual Conference

Date: October 10th-11th

Abstract Deadline: October 3rd

Conference Theme

We invite you to join a virtual conference on 10-11 October 2020.

Following other ornithological events, we will be using Zoom Webinar to host the meeting. Each registered delegate will receive a link to the conference on their email a few days before the event.

The conference attendance fee is €10. Any surplus made will be used to support the publishing of Wader Study.
Student Conference on Conservation Science-New York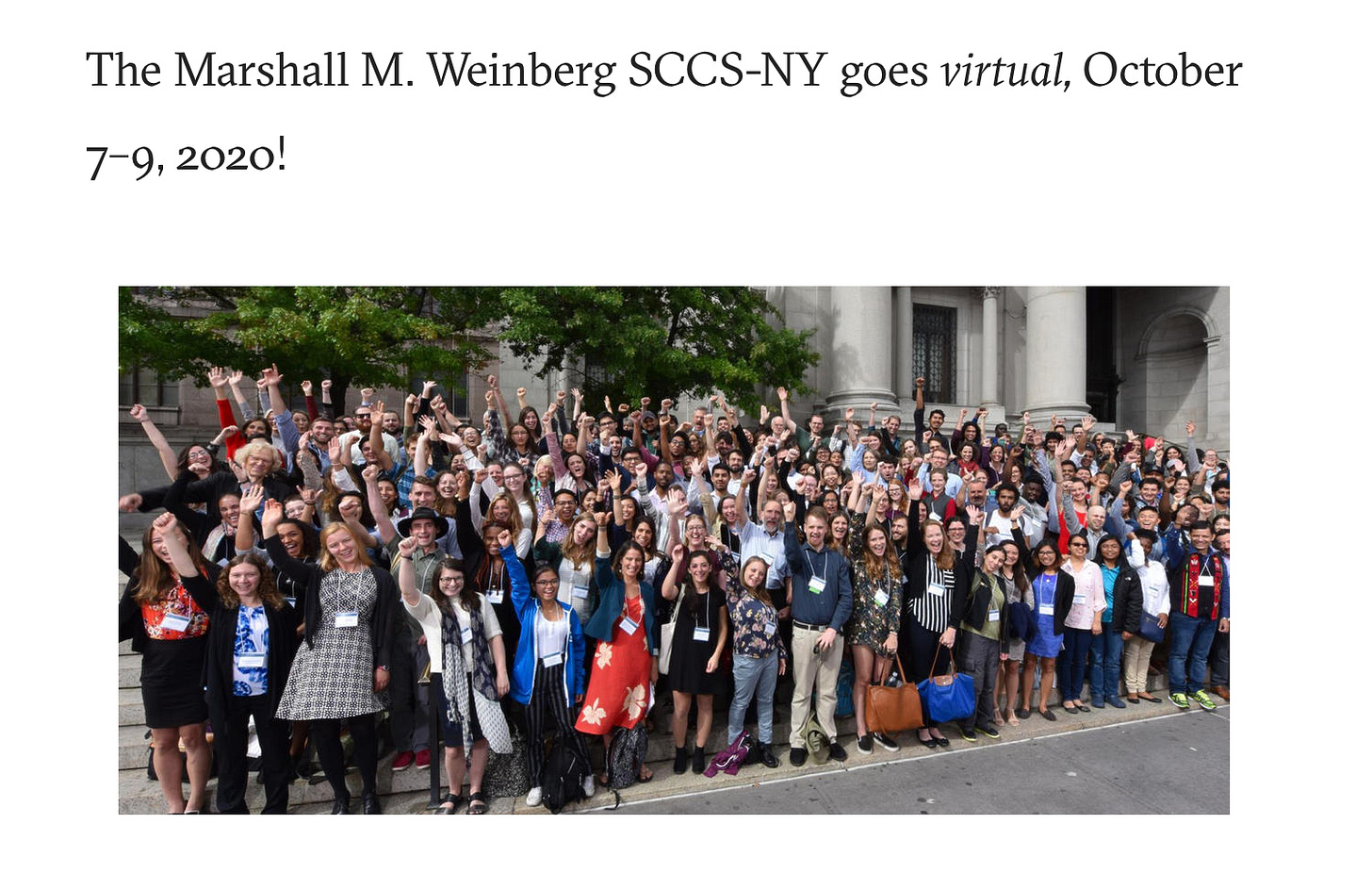 Date: October 7th - 9th
Registration Deadline: October 6th
Conference Theme
The Center for Biodiversity and Conservation and its partners invite students, postdocs, and early-career professionals to take part in the 11th annual Student Conference on Conservation Science – New York (SCCS-NY), which will be an entirely virtual meeting.
As a part of the only international series of conservation conferences featuring students, SCCS-NY provides opportunities for emerging scientists to professionally network, gain experience, and present and get feedback on their work. Interactions with peers as well as leaders in science, policy, and management will encourage collaborations, inspire further research, and create lasting professional connections.
Presenting a Virtual Poster Infographic or Presentation This Fall?
The average person remembers only 20% of what they read but 80% of what they see. 90% of information transmitted to our brain is visual. That's why visual content has become the single most important way to communicate, especially in today's academic world.
Ladies and gentlemen, meet Visme! It is a simple yet powerful, all-in-one visual communication tool that allows you to create interactive presentations, poster infographics, visual reports, documents, printables, etc, in a matter of minutes, not hours! They have more than 1.5 million users from over 100 countries around the world!
Check out this 2-minute explainer video:
Visme offers hundreds of beautifully designed templates, 100+ fonts, thousands of vector icons, millions of free stock images, and it also gives you the ability to embed your own content such as audio, video, surveys, forms, etc!
Now the good news is … drum roll: Visme is free forever! No credit card required! You can always upgrade to a premium plan if you need extra features or more templates. 
Go create an account (it takes less than a minute) and save yourself lots of time and money: