Online Ecology Conferences
Subfields in this edition: Animal Behaviour, Microbial Ecology & Evolution, Ornithology and Marine Biology
Subfields in this edition: Animal Behaviour, Microbial Ecology & Evolution, Ornithology, Marine Biology
Association for the Study of Animal Behaviour

Abstract Deadline: June 16th
Registration Deadline: July 3rd
Conference Theme
How do pathogens and parasites affect behaviour?
We will be interpreting this very broadly: from ticks altering grooming networks, through brood parasitism, mind-control in infected animals, or human responses to threats of infection. If you work on any issues even remotely connected with this topic, we'd welcome your contributions. As with all ASAB meetings, researchers of any aspect of animal behaviour are very welcome and we anticipate that there will be much for you in terms of the social, mentoring and networking opportunities, even if pathogens are not central to your work. Do join us for the day!
---
Animal Behaviour Live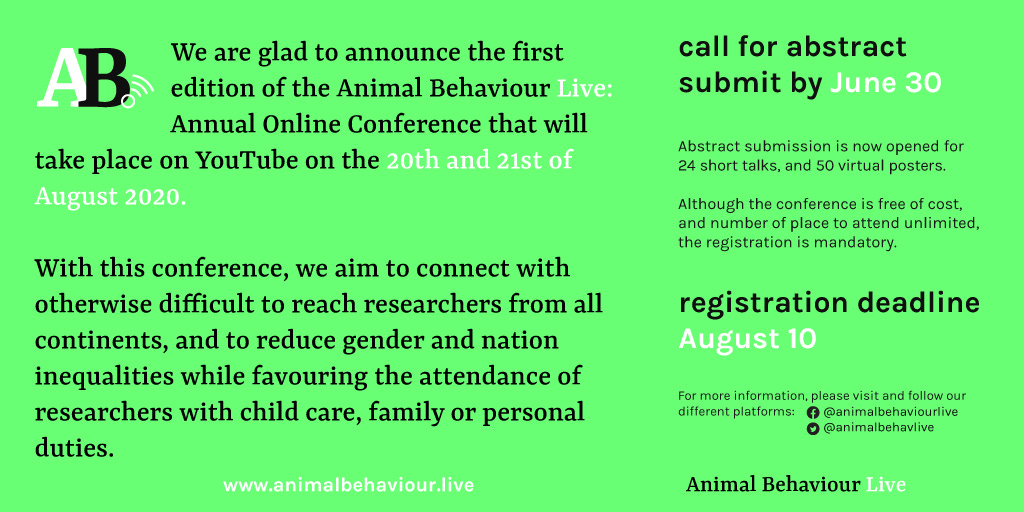 ---
Microbial Ecology & Evolution Virtual

Abstract Deadline: June 15th
Register/Submit your abstract here
Registration Deadline: July 3rd
Conference Themes
Ecology and evolution of infection and the environment
Ecology and evolution of synthetic organisms
Quantitative impact of spatial structure
Cooperation, communication and conflict
Eco-evolutionary dynamics in microbial communities
This conference will integrate microbiology, evolutionary ecology and mathematics/physics, driving innovation in fundamental and applied questions.
---
Climate Change and Birds: Solutions To The Crisis

Date: 24th November
Abstract Deadline: June 30th
Conference Objectives
To consider approaches to projecting future impacts of climate change on birds and review what they tell us about species' vulnerability.
Given the anticipated impacts on species and habitats, to review the priorities for adaptation,
To assess success rates of different adaptation approaches, and to identify current knowledge gaps in delivering solutions to the climate change crisis for birds.
This one-day Virtual Conference will bring together scientists, conservationists and policy experts to use what we know about the impacts of climate change on birds to understand future vulnerabilities. We will also examine the evidence that adapting our conservation practice will provide solutions to the climate crisis for birds.
---
Global Coral Reef Week
Date: July 1st -July 14th
Conference Themes
Coral reefs and diseases
Technological advances in reef studies
Management and conservation
From shallow reefs to the deep sea
Local Communities: Outreach and Climate Change
From July 1st until July 14th, our virtual video conference will be live! Watch more than 85 cutting-edge coral reef research talks and workshops for free. You can watch the talks that interest you at the time that works for your schedule, presenters are  asked to actively respond to questions from conference participants during the first two weeks of July. Presenters are encouraged to leave their talks on our YouTube platform after those two weeks, creating an open-access archive of cutting-edge coral reef research talks to anyone anywhere with Internet access.