Discover more from Ecology Conferences
A monthly newsletter to keep you updated with upcoming online conferences and seminars from the Ecology and Evolutionary Biology world. Join 5000 subscribers.
Over 5,000 subscribers
Online Ecology Conferences
Primate Society Winter Meeting 2020

Date: December 1st - 2nd
Abstract Submission Deadline: November 6th
Conference Theme
The two day meeting will be full of interesting and thought provoking presentations, as well as the opportunity to participate in workshops, our AGM and a fun quiz!
So for all you primate researchers and conservationist out there book your tickets and join us online.
For more information and abstract submission (DEADLINE 6th NOVEMBER 2020) please visit our website www.psgb.org/meetings
Zoom links to the conference will appear nearer the time on this page. You will be alerted.
We are pleased this year to be sponsored by Cambridge University Press, who are offering a 20% discount to conference participants. Please follow this link: https://www.cambridge.org/gh/academic/conferences/psgb-winter-meeting3
---
Virtual Bioinformatics Student Symposium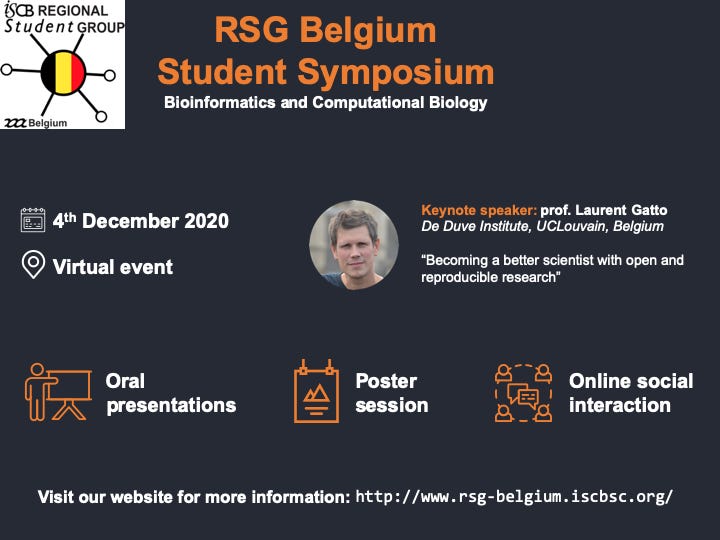 Date: December 4th
Abstract Submission Deadline: November 8th
Registration Deadline: November 30th
Conference Theme
SG Belgium, the regional student group of the International Society for Computational Biology, kindly invites you to the first virtual edition of our annual Bioinformatics Student Symposium. The main goal of this event is to provide a forum for young researchers and students in bioinformatics where they can present their work, get updated about current research topics and network with their peers. Due to the COVID-19 pandemic we have opted to organize a virtual edition of this conference, lest this year not have had any RSG Belgium events.
---
Western Society of Naturalists Annual Meeting 2020

Date: November 5th - 8th
Conference Theme
The Western Society of Naturalists is a scientific society with a strong focus on ecology, evolution, natural history, and marine biology. Its membership is primarily concentrated on the west coast of North America, though many members have spread far and wide.
The general structure of the meeting remains the same, with a student workshop on the opening Thursday and student and presidential symposia on Friday and Saturday mornings, respectively. Contributed talks will be on Friday and Saturday afternoons (and Sunday afternoon if necessary), with a contributed poster session on Sunday morning. There will be interesting and topical special sessions and plenaries as well, and we are working to create a variety of opportunities for virtual networking, mentoring, and general conversation. See the tentative meeting agenda below for more details.
International Symposium on Tadpole Evolution

Date: November 11th - 13th
Abstract Submission Deadline: November 2nd
Conference Theme
The International Symposium on Tadpole Evolution is an initiative organized and hosted by the Universidade Federal do Paraná, Brazil. It aims to bring together researchers interested in topics related to diversity and evolution of tadpoles. In addition to disseminating current researches, the symposium aims to reinforce the stimulate new ideas, projects, and collaborations between different researchers and students.
Brazilian Student Council Symposium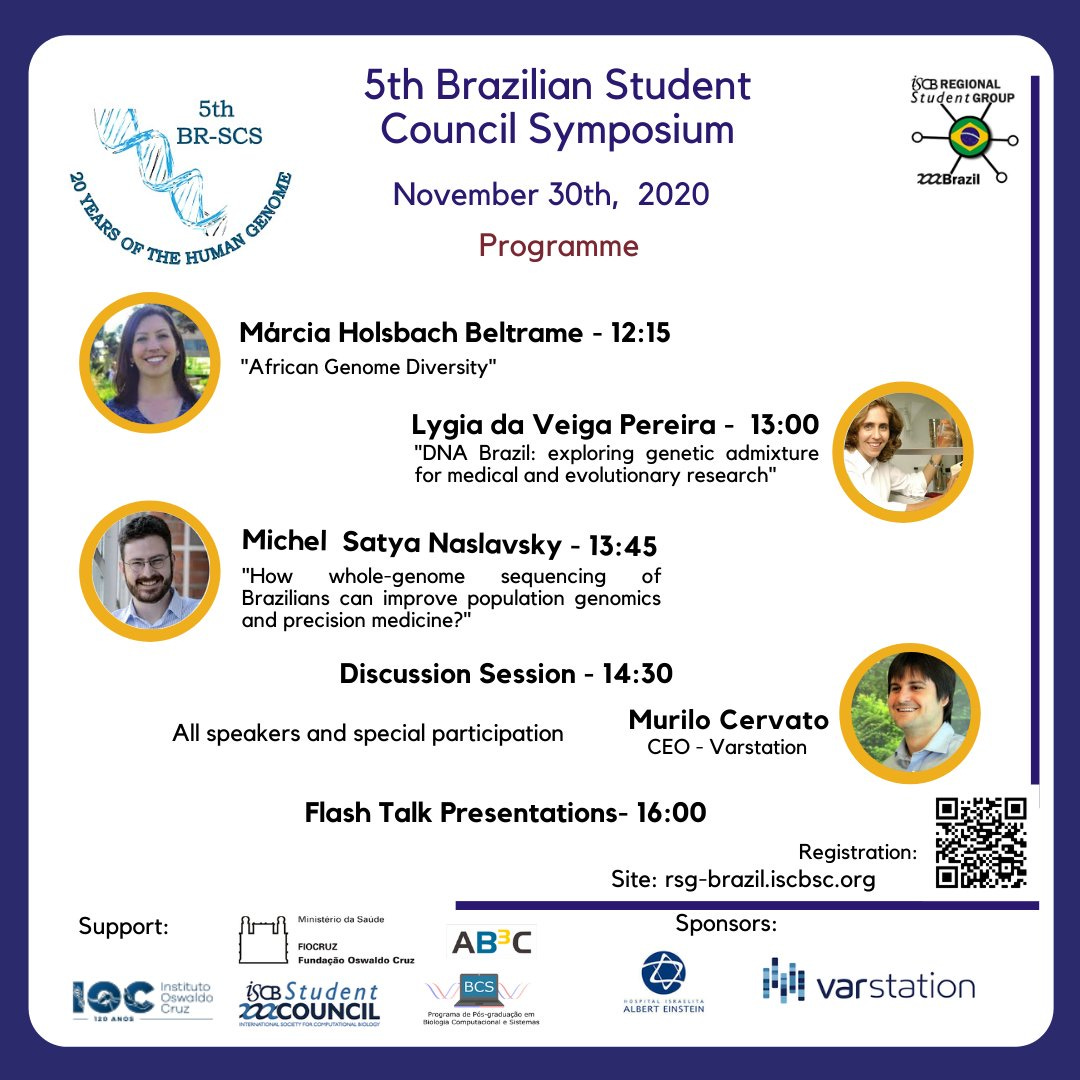 Date: November 30th
Abstract Submission Deadline: November 5th
Conference Theme
The RSG-Brazil is recognized as a member of the International Society of Computational Biology Student Council (ISCB-SC) and a venue for students to present and share their research work along the field of bioinformatics and computational biology in Brazil.
As defined by the ISCB - Competency Framework profiles of Bioinformatics audience (Mulder, Nicola. et al.,2018), we encourage the presence of the three major active groups in bioinformatics and computational biology: Bioinformatics user, Bioinformatics scientist and Bioinformatics engineer.
Topics
Genome Analysis, Phylogenetics, Structural Bioinformatics, Gene Expression, Genetics and Population, Systems Biology and Networks, Data and Text Mining, Database and Software Development.
Presenting a Conference Poster or Presentation?
The average person remembers only 20% of what they read but 80% of what they see. 90% of information transmitted to our brain is visual. That's why visual content has become the single most important way to communicate, especially in today's academic world.
Ladies and gentlemen, meet Visme! It is a simple yet powerful, all-in-one visual communication tool that allows you to create interactive presentations, poster infographics, visual reports, documents, printables, etc, in a matter of minutes, not hours! They have more than 1.5 million users from over 100 countries around the world!
Check out this 2-minute explainer video:
Visme offers hundreds of beautifully designed templates, 100+ fonts, thousands of vector icons, millions of free stock images, and it also gives you the ability to embed your own content such as audio, video, surveys, forms, etc!
Now the good news is … drum roll: Visme is free forever! No credit card required! You can always upgrade to a premium plan if you need extra features or more templates.
Go create an account (it takes less than a minute) and save yourself lots of time and money: