Discover more from Ecology Conferences
A monthly newsletter to keep you updated with upcoming online conferences and seminars from the Ecology and Evolutionary Biology world. Join 5000 subscribers.
Over 5,000 subscribers
Online Ecology Seminars 27th July - August 2nd
Subfields/Topics in this edition: Entomology, Mangrove Ecology and Conservation, Conservation Genomics, Herpetology, Forest Invasive Species, Chinese Conservation Efforts, Tiger Conservation, Carnivore Behavioural Ecology, Phenology and Seed Dispersal, Aridity and Landscapes, How social and environmental dynamics shape animal culture, The ecological paradox of the 'Dust Bowl' drought

New routes into herpetology : the Amphibian Foundation's Bridge Program for Conservation Research
Tobias Landberg
Wednesday July 29th 6pm BST / 10am PDT
Visit @HerpSeminars where a live link will appear a few minutes before the event.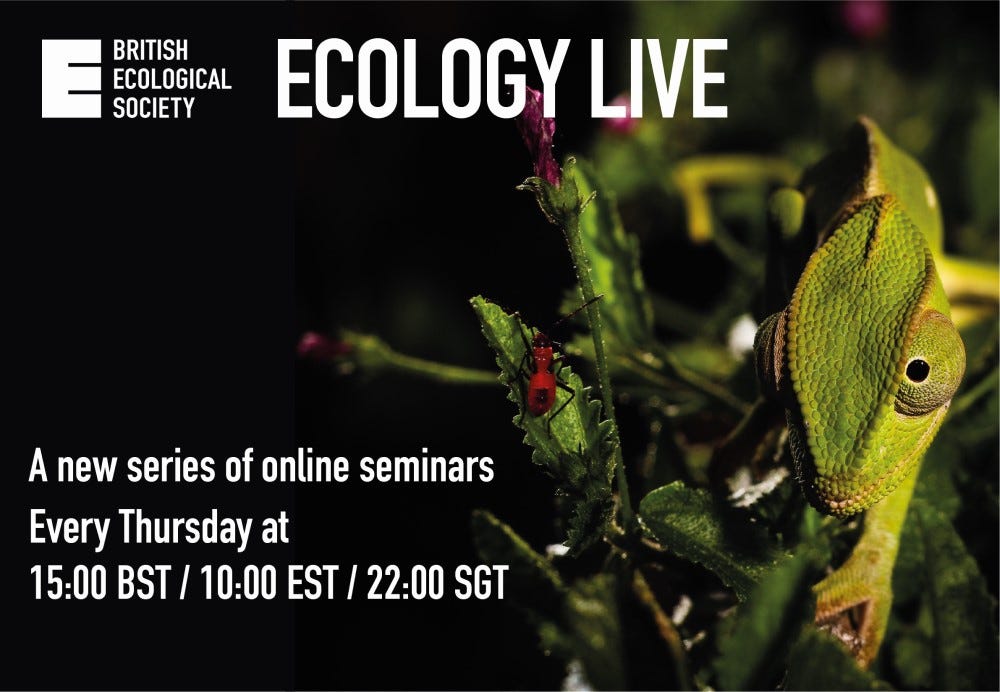 Thu 30 Jul Alan Knapp, Colorado State University
The ecological paradox of the 'Dust Bowl' drought: the past can inform the future
The 1930's Dust Bowl drought in central United States, characterized by a decade of low rainfall and high temperatures, led to widespread and surprising shifts in the composition and functioning of native grasslands. We have been able to reproduce key aspects of these grassland responses to extreme drought with a four-year field experiment. Based on our experiment and analyses of historic climate records, we propose that these responses can be linked to alterations in precipitation seasonality, which can affect ecosystem function in ways not expected from the traits of the dominant species.